There are a lot of choices when it comes to picking bands - so why Catch 22?
Catch 22 is a fun, energetic, and talented wedding & party band. Made up of professional BA Hons degree musicians who actually work in the music and education industries. Catch 22 are a 'go-to' band for holiday parks such as Haven, Park Dean, Park Resorts, John Fowler & Hoburne and has also performed for many reputable companies & corporations (both local and national) and are used extensively to entertain troops for various army functions throughout Wiltshire. With flexible packages ranging from acoustic/semi-electric afternoon sets to 3hr danceathons Catch 22 has something for everybody and all budgets to make your day even more special.
It sounds a bit corny or cliche but we are hugely passionate about what we do. This passion is not only for music but for people, fun, laughter, and life. Nothing makes us happier than when we see a crowded dance floor. If we didn't make a party the best we could for all involved, we would take it very personally!
People often say 'If money was no object, what would you do?'. Well... We are already doing it!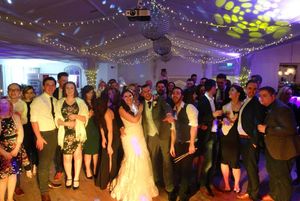 Free Consultation
If you have had a look at our prices & packages and you believe Catch 22 might be the band for you we would love to meet and discuss your party in more detail before a final quote.
Most Brides & Grooms to be have been to a few weddings but Catch 22 have been to a lot! We believe we have a great idea of what can and cannot work! 
 
Lighting & Equipment
From making your dance floor look romantic and sparkling to a full-on rave Catch 22 have a wide range of lights, lasers, and smoke machines to bring your venue to life! 

We have up to 5k watts available which is enough to do 400 people-sized venues.
Music & Set Lists
We have a huge repertoire of songs. However, we are not a standard covers band. We medley them, we mash them and we mix them to keep the tunes coming. 
We are also happy to learn your first dance song or a special request to make the night the best it can be.
The Digital Edge
We run a fully digital system. This means we can perform in the smallest venues and perform in venues that have a sound limiter. No matter what the venue is, we will be there!
Using our fully digital system means we can mix our instruments perfectly no matter the venue or logistics. We have 100% control 100% of the time. 
Laptop DJ Service
When we are not performing or taking a break we can use our system to keep the tunes pumping. We have plenty of mix tapes or we can even play your own playlists on any media playing device.

We can also turn the volume down and have the perfect soundtrack for an evening meal or afternoon lunch.
Peace of Mind
We use PAT-tested equipment and have public liability insurance. We have spares of all our equipment and our van is serviced regularly and has a full breakdown cover.
We run contracts to protect both parties and will work directly with the venue over health and safety issues.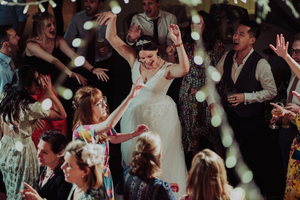 Early Arrival
It's unavoidable but we have to make noise during soundcheck and setting up our equipment. This 60-90min set up time can obviously disturb procedures at parties or weddings so to avoid this we can offer early arrival for £100+.

The advantage of this is that all the equipment is set up before you arrive at your reception. This means that our system can be used to play background music at any time during the day!